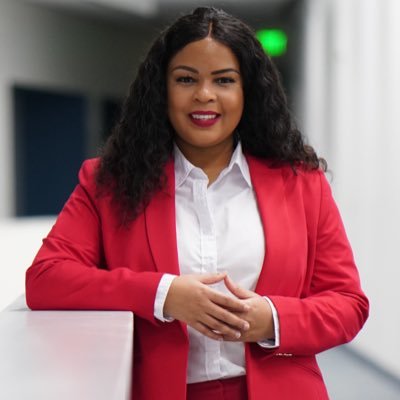 For over a decade, Val B. Glenister has worked as a public servant with non-profit organizations, higher education institutions and in government, focusing on community outreach, program development, and public affairs. In both her professional and personal life, Val has found her place as a thought leader in the community, promoting the impact of civic engagement as well as the power of public information.
A proud two-time Golden Panther, she obtained a Bachelor of Business Administration degree from Florida International University (FIU) with a minor in Entrepreneurship, then returned to FIU for a Master's in Business Administration. A South Florida native, Val was born and raised in Miami-Dade County just three miles away from what now stands as the Miramar City Hall. Today, Val lives in Miramar with her husband Jerome as proud homeowners and city residents.
An active citizen and committed Miramar resident, Val currently serves as a board member for Ruth's List Broward and the Broward Chapter of the FIU Alumni Association, is a member of the Miramar Community Garden, and holds appointed positions as a member of the City of Miramar Economic Development Advisory Board and the Broward Cultural Council. As a Florida International University Outstanding Service Awardee, a South Florida 40 Under 40: Black Leaders of Today and Tomorrow honoree and a member of the Leadership Miami XL Class, she strives to positively impact each organization and community she encounters.