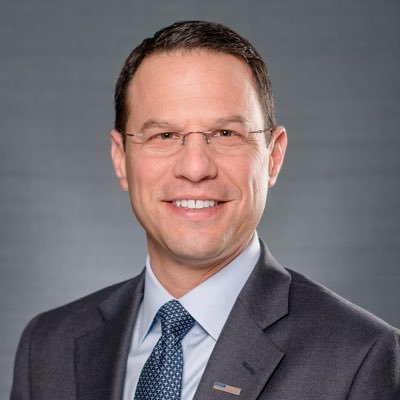 Josh Shapiro is a public servant who has risen above politics time and again to take on the status quo and protect everyday Pennsylvanians.
As a State Representative, Josh wrote and passed some of the toughest ethics laws in state history. Philadelphia Magazine wrote that Josh was "a blast of oxygen in the smoke-choked back rooms of quid-pro-quo Harrisburg," and his work earned him a national reputation as a bipartisan consensus builder.
Then, as Chairman of the Montgomery County Commissioners, he led a fiscal and ethical turnaround, took early steps to combat the heroin epidemic, helped the first LGBT couples in Pennsylvania marry and fired Wall Street money managers to save retirees millions. His work on behalf of victims and for criminal justice reform as the Chairman of the Pennsylvania Commission on Crime and Delinquency earned him the trust of law enforcement leaders from both parties.
As Attorney General, Josh has restored integrity to the office and is standing up for the rule of law and safeguarding Pennsylvanians' rights — no matter what they look like, who they love, or who they pray or don't pray to.
He has taken on child sexual abuse in the Catholic Church, identifying 301 predator priests and thousands of victims and spurring investigation across the United States. He has twice secured national injunctions protecting women's access to no-cost contraception as required by the Affordable Care Act. He is fighting our country's opioid epidemic on every front– including leading a multistate investigation into pharmaceutical manufacturers and distributors.