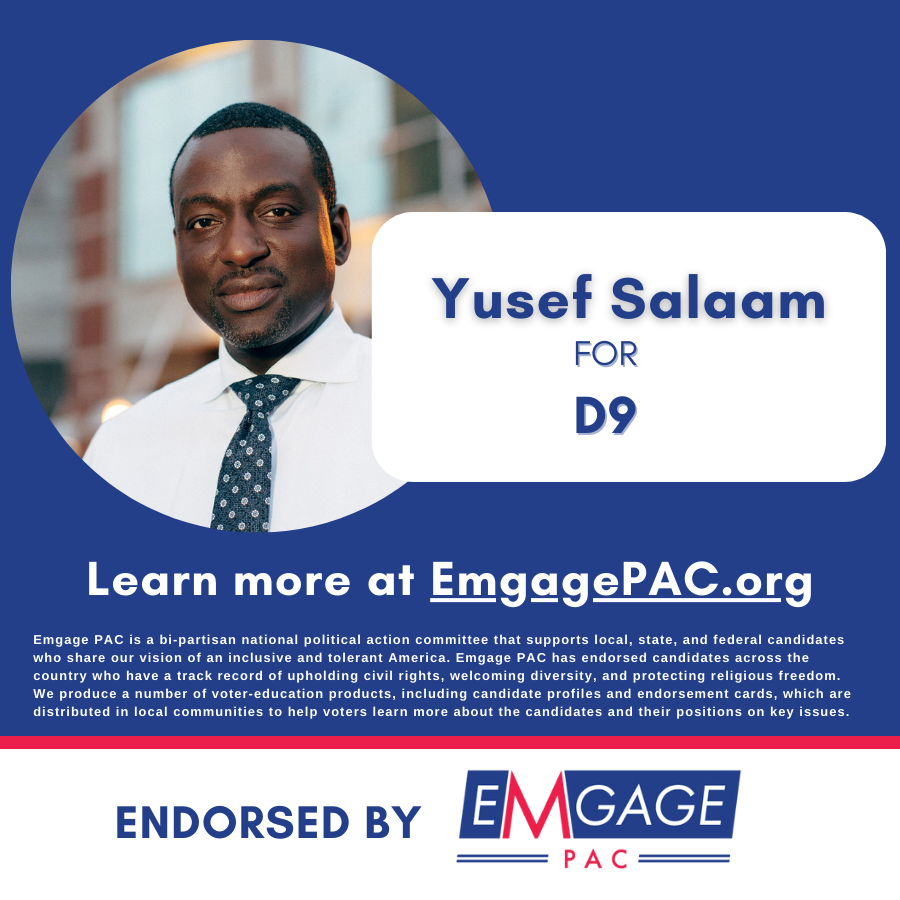 Yusef Salaam is a criminal justice advocate from Harlem who has worked his whole life for truth, justice, and fairness. As a member of the "Central Park Five," Salaam was just 15 years old when his life was upended and changed forever when he was wrongfully convicted in 1990 in New York's Central Park Jogger case. The convictions of the "Central Park Five" were vacated in 2002 after spending between seven and thirteen years of their lives behind bars. Since his release, Salaam has committed himself to advocating and educating people on the issues of false confessions, police brutality and misconduct, press ethics and bias, race and law, and the disparities in America's criminal justice system.
Emgage PAC has joined a growing list of supporters of Salaam's campaign, which includes activist Cornel West and former Manhattan Borough President C. Virginia Fields. As a board member of the Innocence Project, founding member of Justice 4 the Wrongfully Incarcerated, and 25-year member of the Frederick E. Samuel Community Democratic Club, Salaam has a deep understanding of the issues facing our community. Emgage PAC is confident that Salaam has the expertise, experience, and dedication to make a positive impact as a City Council member, and that he will commit to always putting Harlem first.
"We are building momentum at the right time in this race and it's an honor to receive the endorsement of Emgage PAC. Emgage is helping mobilize Muslim voters and I am proud to stand with them as we uplift Muslim voices and experiences. This campaign is about inclusivity and we are building the biggest, most diverse coalition in this race because the people of Harlem want change," said Salaam.